For multiple years, Arturo Labs solutions have been proving that a thought-out CRM strategy and robust software add up to efficient customer relationship management. To achieve this goal, our team assists you at any stage of the Salesforce implementation, from consulting and tweaking the platform to custom solution development and user training.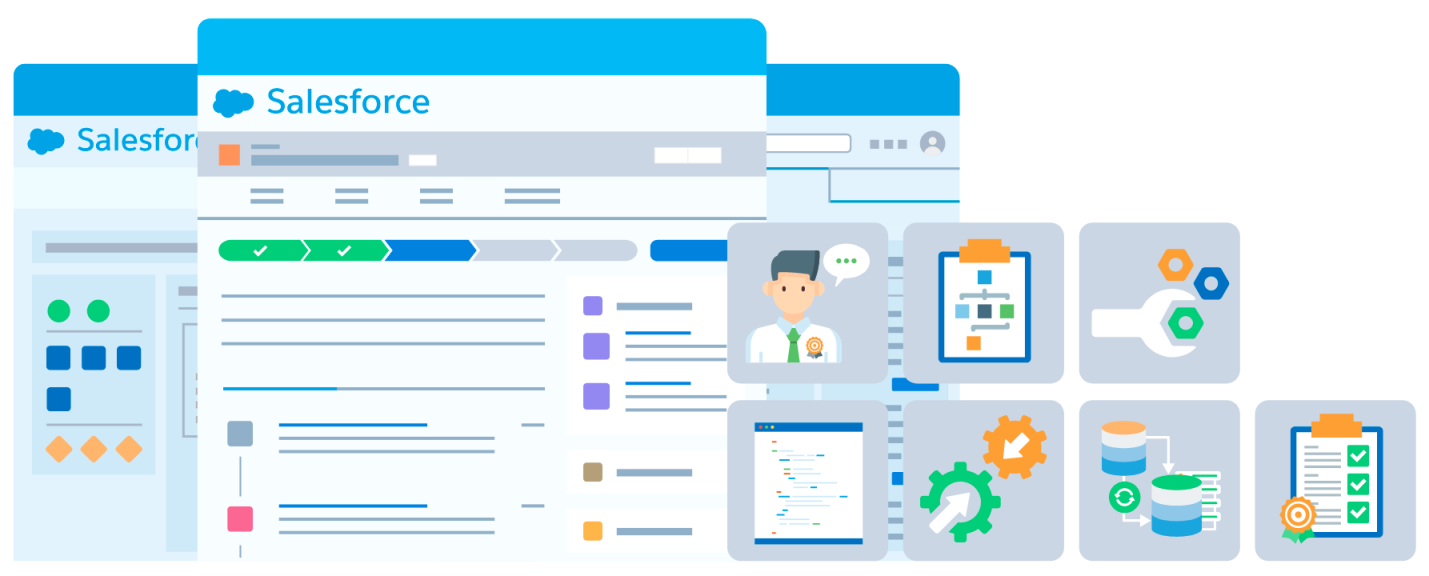 Why Choose Arturo Labs
17 years in IT business
11 years in CRM development
150+ professionals on board
Salesforce partner
A team of certified Salesforce developers and admins
Industry expertise in manufacturing, retail, professional services, healthcare, banking, telecoms, etc.
Multi-disciplinary expertise generated during 17 years in software development and consulting (experience in IoT, big data, data science, collaboration solutions, mobile app development and image analysis applied to complex projects that go beyond Salesforce)
Customers Say
"Arturo Labs has done an amazing job of making our internal processes more efficient, implementing changes without causing any interruptions to the business. The changes they've made within Salesforce are reliable and functional."
The National Manager of a Financial Services Company
When We Consult
Implementation of a
new Salesforce solution
Improvement of an existing solution for better coverage of business needs
We provide implementation consulting services if there's a need for migration from another CRM to Salesforce, or if you are only planning to get your sales, marketing or customer service activities digitized with CRM. We analyze the customer's requirements and business needs and offer ways of addressing them in full with Salesforce capabilities.
We offer a comprehensive plan on enhancing the customer's current Salesforce solution with proper integrations and customizations (from minimal tailoring with point-and-click tools to customizing it with code).
What Our Salesforce Consultants Do
If you plan to implement Salesforce or improve your existing solution, Arturo Labs provides comprehensive consulting, which includes:
Defining business objectives Salesforce is to support. Whether you need to enable reports with increased visibility, reduce long sales cycles or case resolution time, introduce efficient email marketing campaigns or automate your sales and customer service-related processes, Salesforce consulting helps to address your challenges timely and efficiently.
Mapping business objectives into Salesforce features takes place after your business goals are clear. Now it's time to choose Salesforce functionality (either default or custom) to achieve them.
Recommending the most suitable Salesforce edition. Choosing the right edition means that you get your business challenges addressed without paying for unneeded features. We analyze your requirements and suggest an edition, which will be a perfect match for your business.
Designing sales, customer service and marketing processes in Salesforce Sales, Service and Marketing Clouds. For instance, we automate sales and customer service workflows, create personalized customer journeys, targeted advertising campaigns and do a lot more to help our customers reach their business goals with Salesforce.
Building a user adoption strategy. To help your users to master the new system, we create a user adoption strategy, which comprises iterative user training, timely user support by the Salesforce admin, release notes, and rewards for advanced Salesforce users.
Challenges We Solve
We find solutions to a number of challenges with Salesforce, including:
Low win rates due to an inconsistent sales process. We make Salesforce Sales Cloud improve or fully transform your sales process. To ensure efficient process automation, we suggest using default Salesforce functionality or applying code-based customizations. It allows creating a well-structured sales process and showing how it's followed, which guides sales reps on their way to closing deals. Thus, Salesforce consulting may bring a 26% win-rate increase and 28% sales revenue increase.
Poor customer service due to lengthy case resolution. We can help you to improve your customer service quality exercising default or custom case management functionality of Salesforce Service Cloud. With our help, you'll know how to leverage its mechanisms of automated case assignment, prioritization and escalation allow supporting your service agents' productivity, which results in 31% quicker case resolution.
Low lead conversion rates. We show how to increase your lead conversion rates by creating efficient omni-channel marketing campaigns and enabling digital advertising with the Salesforce Marketing Cloud functionality. We will assist you in creating efficient customer communication scenarios. As a result, you'll be able to engage with a large number of customers, treating each of them in a highly personalized way, which may lead to a 30% better lead conversion.
We Speak Your Industry
While being open to new ServiceNow challenges in various industries, Arturo Labs team is particularly experienced in Healthcare, Banking and Financial Services, Retail, Manufacturing, Oil & Gas, Public Sector and Telecoms. With the background in your industry, we won't just propose tech-solutions: we will make sure they work under your specific circumstances.